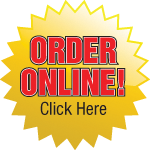 ||
Carry Out & Delivery Available
Open For Lunch!
Guido's Caters Any Event
Online Ordering Available
Proudly Serving "Detroit-Style" Deep Dish Pizza
Miscellaneous
Guido's is a family-owned company that prides itself on going that extra step to take care of our customers. If you need a special service call the local store. We will do what we can do accommodate you!
Guido's Premium Pizza has 12 Michigan locations, each with its own owner. They offer speedy delivery service seven days a week and catering for any size party, meeting or event, and we don't stop there!
From something as extreme as delivering a Guido's pizza 1,500 miles away to a bride and groom on their wedding day (Yes, we really did!) to something as simple as making sure your pizza is made exactly the way you like it. Guido's Pizza is at your service!
Call your nearest location for:

Unusual Events

Unique Deliveries
Special Requests