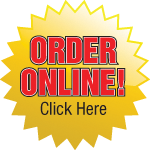 ||
Carry Out & Delivery Available
Open For Lunch!
Guido's Caters Any Event
Online Ordering Available
Proudly Serving "Detroit-Style" Deep Dish Pizza
Franchise Information
We are here for you! If you would like to speak to somone direct please feel free to call and leave a message:
Shawn McGuire
(248) 969-2111
OR
Via Mail:
Guidos Premium Pizza
1396 S. Lapeer
Oxford, Michigan 48371
Or fill out the information below and someone will contact you very shortly regarding our franchise opportunities. Thank you.